NEXA to attend this year's Digital Health Summit
We're excited to announce that NEXA will be at the upcoming Digital Health Summit in Sydney.
The Digital Health Summit, presented by the Australasian Institute of Digital Health (AIDH) and eHealth NSW, will be held on October 17-18, 2022 – with 900+ delegates, 100+ speakers, 50+ exhibitors and 5+ workshops.
In addition to addressing the challenges of healthcare in today's digital age, this event will give attendees the opportunity to witness where digital healthcare is headed in the future.
Our team at NEXA will have our own booth at the event to showcase the innovative ways in which we are improving the patient experience and driving successful healthcare outcomes through service design and technology.
So, join us as we explore digital advancement in healthcare together.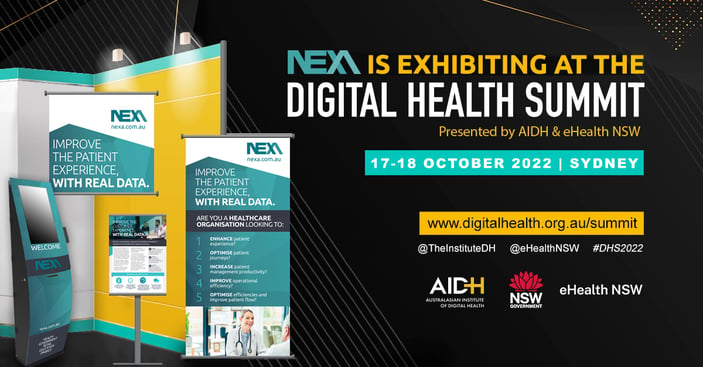 Our partnership with the Digital Health Summit
At NEXA, we are taking part in this year's Digital Health Summit because we believe in AIDH's vision of "healthier lives, digitally enabled".
Our goal is simple: we aim to educate medical clinics and healthcare facilities about NEXA's digital healthcare solutions so that they can adopt technology to optimise every patient's journey, support staff and boost internal efficiencies.
Aside from this, we are excited to meet our growing community of digital health professionals, peers and colleagues from metro, rural and regional NSW and learn from their valuable insights and best practices.
"We are really looking forward to building connections and deepening our network at this year's Digital Health Summit. It's a great opportunity to witness the advances in digital health across the medical sector and I'm proud that NEXA is contributing to this," says Adrian Gold, CEO and Owner of NEXA GROUP.
Come and see our healthcare solutions and tech at the event
NEXA's booth will be open for all attendees - so if you're coming along, make sure to visit us, say hi and see our live demos.
Our team will be there sharing NEXA's globally recognised digital healthcare products. With these patient journey solutions integrated into your healthcare facility, we can empower you to streamline patient flow and provide a positive patient experience.
Will we see you at the Digital Health Summit?
If you come along, then definitely stop by at booth 31.
We're advocates of leveraging the power of digital technology to enhance healthcare, and we're excited to see what this event holds.
At NEXA, we truly understand the pressure that healthcare facilities often face when aiming to provide the best possible service and care for every patient, every single day. That's why we're here to support your industry with our full suite of digital healthcare solutions that also improve the overall transparency, efficiency and productivity of your business.
For more information about our innovative digital technology and products, visit us at booth 31 at the Digital Health Summit Sydney.
We can't wait to help you thrive in today's ever-evolving landscape with patient interactions that matter. See you there!